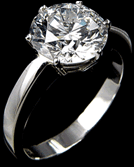 Based in South Africa's beautiful Franschhoek Valley with over fifty years of experience in the industry, our aim is to acquire quality stones and to produce
uniquely designed, hand-crafted jewellery.
Every one of our diamonds bears an internationally accepted certificate and we ensure that each one is perfectly cut.
We pride ourselves on having competitively priced jewellery of the highest standard.


Design your own unique piece of jewellery using our simple, online system. Once you're done, we will send you a quote for the piece that you've designed!
You can put together rings, pendants, necklaces, earrings or bracelets - customising the settings and stones to your exact specifications.
Use our simple four-step process;
Step 1 - Select the type of piece you want (Ring, Pendant, Earrings, Necklace or Bracelet)
Step 2 - Select your style
Step 3 - Customise the cut, colour and clarity of your stone(s)
Step 4 - Fill in your details so we can send you a quote!